June 7th Meeting – Deer Lodge Centre Selected!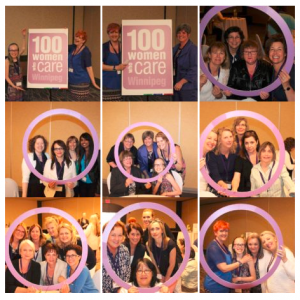 Our meeting started off with a presentation from Nancy Heinrichs, NorWest Community Food Centre Executive Director – recipient of last meeting's $100 cheques. Nancy shared with us the impactful programming at the centre and specifically on the youth smoothie after school program the combines healthy eating with exercise (kids have to ride the bike to activate the blender that makes the smoothies).
We then selected our 3 finalist charities: The Movement Centre of Manitoba, Deer Lodge Centre,  and OHEYS Autism Camps. After hearing presentations about these fantastic local groups, members voted for Deer Lodge Centre as the June recipient of our $100 cheques.
If you were unable to attend the meeting, please write out your $100 cheque to Deer Lodge Centre. Ensure that your contact info is on the cheque as the charitable tax receipt will be mailed directly to you from Deer Lodge Centre.
Please mail or drop off your cheque to:
100 Women Who Care Winnipeg
c/o Canad Inns Corporate Office
3rd Floor 930 Jefferson Avenue
Winnipeg, MB
R2P 1W1
You can also donate on-line by clicking here