Professional career

"Love yourself enough to find a career you love, and joy and fulfillment will be yours."

---
Jane Meagher is an independent consultant, speaker and coach, with a proven track record of successfully completing
projects on time and on budget.
She
is a dynamic leader, visionary, and problem solver with above average communication skills.
As Executive Director of Red Road Lodge – Home for Recovery, Jane was instrumental in turning the Occidental Hotel into a safe, dry facility. She is the Founder of 100 Women Who Care Winnipeg, a philanthropic group of women who met every three months to raise up to $10,000 for a selected Winnipeg charity.
Her background in human behaviour, world religions, addiction, trauma and typology (the study of personality types), as well as her ability to relate to people of all circumstances, have contributed to the many highlights in her career.
Jane has a vast history of diverse work projects, and she is as comfortable having tea with Manitoba's Lieutenant Governor as she is working with chronically homeless people on Winnipeg's Main Street.
Today Jane is committed to being a stakeholder in finding permanent solutions to the ever-growing crisis of Homelessness in Winnipeg.
---
2021–present   Winnipeg Equality Foundation
The Winnipeg Equality Foundation was founded by Valerie Thompson in 2021. The Foundation was formed to address chronic homelessness in Winnipeg. Jane and Valerie are currently collaborating on this project. Valerie is a philanthropist, and former social worker involved in group home operation and management. She engaged with young people who came from dysfunctional and dangerous domestic situations, and without intervention were likely to follow a path of gangs, drugs and incarceration. Jane has extensive experience in community project management, and a deep understanding of addictions and mental disorders, both on a personal and professional level.
---
2015–2022   Manitobans for Human Rights Inc.
In 2015, Jane was invited by Valerie Thompson to join the Board of Manitobans for Human Rights Inc. (MHRI), holding the position of Director, Addiction and Mental Health. She worked on their website to present and share the organization's activities, introducing the Manitoba Hero of the Month page. Jane wrote these segments to introduce MHRI website visitors to individuals who made meaningful contributions to Manitoba. A few of the people Jane profiled included Paul Albrechtsen, Shirley Fontaine, Terry Fox, Mitch Padolak, Cecil Rosner, and Doug Thomas. Jane stepped down from the board in 2020.
Her contributions to MHRI continued with the re-design of the organization's signature annual fundraising community event, The Torch of Dignity Relay. Originally this event was meant to raise awareness of Human Rights Volunteers who ran a relay along Winnipeg streets passing the torch until participants arrived at their destination such as The Forks or Assiniboine Park – where events, keynote speakers, and refreshments awaited. Because this event took place on a Sunday in August, basically for the bulk of the relay, Winnipeg streets were empty.
Jane decided to add the community to the event. She submitted a proposal to the MHRI board that the 2022 event be held in the centre of the city – Central Park, a diverse working class neighbourhood of new immigrants and new Canadians, who need to know their human rights.
Acknowledging the area was also full of children, Jane introduced a Mini Torch of Dignity Relay so the children could meet each other and develop relationships. Jane's hope was that friendships would flourish, nipping racism in the bud.
Jane's model proved to be a tremendous success.
Founder Valerie Thompson, dissolved MHRI in 2022, to focus on the chronic homelessness situation in Winnipeg with Jane Meagher.
Testimonial from Valerie Thompson, philanthropist
Past President, Manitobans for Human Rights
"I celebrate the day I phoned Jane Meagher and asked her to consider joining the Board of Directors with Manitobans for Human Rights. I learned very quickly that Jane is highly intelligent, expresses herself with great clarity, and has obviously learned a lot from her life experiences.
"More than all of this, it is the extent of Jane's passion and commitment that enables her to really stand out. Jane is a born leader who thrives towards positive change in this world."
---
2015–2019  100 Women Who Care Winnipeg
Jane founded the philanthropic organization, 100 Women Who Care Winnipeg. On a quarterly basis, prior to Covid, its members collaboratively gave donations of up to $10,000 to Winnipeg charities. Recipient organizations, who received funds from the organization included, but were not limited to Candice House, House of Peace, Riverview Foundation, Jocelyn House and Riding for The Disabled. The organization is currently on-hold due to COVID 19.
---
2011–2020  Workshops
Following her years with Red Road Lodge, Jane focused on acquiring additional knowledge about both addition and leadership. Out of this period of reflection and study, she developed and delivered two workshops. They were titled Understanding the Power of Addiction and Leadership Today in a Complex World.
Testimonial from Dougald Lamont
Leader of the Manitoba Liberal Party
"I was impressed and inspired by Jane's presentation on leadership. It was thought-provoking, challenging and left me with tools I use on a daily basis."
Testimonial from Vienna Badiuk, Agency Producer
The Buzz Communications Group

"While Agency Producer at Clark Communications (now ClarkHuot/Cocoon), I hired Jane Meagher to assist one of our clients, Cambrian Credit Union. They were introducing significant changes which needed a complete buy-in from front line staff.
"Working with Cambrian executives, Jane developed a program focused upon positive response to change. The program began with a keynote address presented by her to all levels of corporate management, branch managers and the entire staff of the nine branches.
"Jane's presentation was spectacular! Within seconds, she had people sitting on the edges of their seats. Her energy gripped the room. She talked about change and how we as human beings are resistant to it. Jane compassionately acknowledged the difficulty we have in accepting change. Through the use of humour and personal examples – her talk focused on embracing that change.
"By the conclusion of her keynote address, the transformation of the tone in the room was palpable. The resistance and tension had been replaced – with laughter and team spirit. This transformation occurred nine more times, as Jane subsequently led workshops at each of the Cambrian branches.
"Jane is a dynamic speaker and trainer, who provides thoughtful analysis, practical direction and hope to program participants."
Testimonial from the Manitoba West Service Area, Support Staff
Royal Canadian Mounted Police (RCMP)

"Thank you for taking time out of your busy schedule to help all of us to discover ourselves and others — with an understanding."
---
2004–2011  Red Road Lodge – Home for Recovery
Jane was commissioned to transform the Occidental Hotel on Main Street in Winnipeg into Red Road Lodge – Home for Recovery, a safe, dry facility for homeless people. This was a daunting task managing 42 residents with mental disorders, addictions, and criminal footprints. Jane was the Executive Director for three years and then chose to devote her time to the residents. She developed holistic and life skills programming and provided individual counselling. Jane had an excellent relationship with all provincial agencies.
Testimonial from Leo Wiebe, Resident
Red Road Lodge – Home for Recovery
"I would like whoever is reading this to know how profoundly Jane Meagher has impacted my life. Through our coaching sessions she made me understand that purging my thoughts and not repressing them was a healthy way to alleviate the stress and frustration I was constantly experiencing.
"Better yet, by teaching me what kind of person I am through Typology, she made me realize why I would think the way I did, and she gave me the tools to work on the negative aspects of my life. 
"Words cannot express the gratitude I have for the tools Jane Meagher gave me, and the courage to use them."
---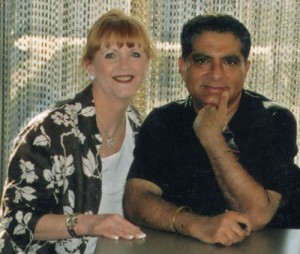 2003
Jane raised the capital to bring Dr. Deepak Chopra to Canada for a national tour of speaking engagements across the country.
---
1989 – 2002
Jane was contracted by Human Resources Development Canada to design and deliver re-employment, career decision and entrepreneurial training programs for individuals in receipt of employment insurance.
The first project Jane designed was the Practical Business Skills program. This was a five-month course that included, a four-week work placement and four weeks of computer training.
During the first Practical Business Skills program, Jane invited a member of one of Winnipeg's Toastmaster's Clubs to do a presentation to her group of 22 individuals on the topic of the benefits belonging to a Toastmasters Club. Jane wanted her participants to be able to market themselves well in any situation from interviews, to describing their own business etc.
The session went over so well that one participant suggested we start our own Toastmasters Club, and we did. The PBS Toastmasters Club was created and is still thriving today, 27 years later. The club has won numerous international awards. Because the PBS training program no longer exists, the name PBS now stands for, Producing Better Speakers.
Testimonial by Terry Wasylak, Senior Consultant
The Career Clinic, Calgary
"Jane Meagher is the consumate coach, but unlike many others she is a very global and strategic thinker who is equally gifted at not only helping her clients develop effective career and team solutions but also at helping them make those solutions a reality.
"Jane utilizes a strategy that begins with self awareness to create the foundation and road map from which she guides her clients skillfully through. Jane is an invaluable resource to individuals in their efforts to achieve career and team excellence and justifies my highest recommendation."
---